What is a vacuum truck used for?
Whenever sewer or septic systems need major maintenance, plumbing professionals use vacuum trucks to clean out sludge or large amounts of liquid waste. The trucks feature storage tanks, pumps, and hoses. Some are also outfitted with hydro-jetters that can clear clogs in sewer lines or defrost frozen pipes. These vehicles are also used in a variety of industries for other environmental cleanup purposes like suctioning water from drilling jobs or clearing out mud for exposing utility lines. The trucks can also be used to remove bilge water from boats. If you are in need of septic or sewer clean-up or other environmental clean-up and need vacuum truck services in Fort Pierce and Port St. Lucie, Fl, count on the professionals at KRK Enterprises, Inc.. Book a service call by dialing 800-330-7686.
How do you use a vacuum truck?
While septic and sewer clean-up are common reasons people need vacuum truck services, these trucks are versatile and can also be used for a variety of jobs:
Sump pump cleaning: If you have an overworked sump pump, a truck can clean it out. Water backed up in your basement can become a serious health and safety issue.
Restaurant grease trap clean-up: Overloaded grease traps can cause serious environmental problems, and affect the safety of your operations and the health of your employees. Cleaned grease traps eliminate the risk of clogs and back-ups that can cause serious damage and lead to costly repairs.
Emergency water clean-up: After major storms or floods, water is going to need to be removed to protect people and wildlife.
Hazardous material removal: Vacuum trucks can safely remove hazardous materials, eliminating the risks you take trying to remove such material by hand. Vacuum trucks are chemical-resistant by design and won't be affected by the material.
When to use vacuum truck
Because vacuum truck services have a wide variety of applications, you basically want to use one whenever large amounts of material like sludge or waste materials need to be removed. Utility companies, for instance, use them to safely remove materials while digging utility lines. Restaurants will need them when their grease traps have become overloaded and aren't functioning in a safe manner.
What is a combo vac truck?
When you hire a vacuum truck service, you might need it for more than clearing out material with its vacuum hose. Some trucks combine the vacuum with a water pump that is highly useful for clearing out wet materials like damp sludge. It's especially useful for cleaning sewer lines and storm drains. Standard vacuum trucks without water pumps work better with dry materials.
Vacuum truck capacity
A vacuum truck's tank capacity will vary with the size of the truck in use. Large commercial trucks, for instance, can have tanks with the capacity to hold anywhere between 350 to 1,940 cubic feet of material. Smaller, more specialized vehicles, often have smaller tanks. Some of the smallest tanks hold no more than 130 gallons of material.
How far can a vac truck reach?
Depending on what kind of vacuum truck is used and what is being lifted, the length the suction hose can reach will vary, although the maximum length most suction hoses can reach will be 160 feet. The viscosity of the material and its overall density will affect the hose's reach.
How far away can a septic truck pump?
People often call in a vacuum truck service to clean out their septic systems. One concern they have is whether or not the truck will have to go into the yard to get to the septic system. Typically, the truck will sit in the driveway and the lawn will be left alone, although 100 feet is about the limit for the pump. KRK Enterprises, Inc. makes every effort to ensure no property is damaged with all of our services.
Vacuum truck with jetter
Because vacuum truck services are often required to clean septic and sewer lines, many plumbing professionals have their trucks equipped with both vacuums and hydro-jetters. The hydro-jet system is highly effective at clearing out serious clogs and blockages, tree roots in particular that have broken through the sewer line. The hydro-jetter can also be used to unfreeze pipes or even to clean up the job site once the waste material has been cleared with the vacuum.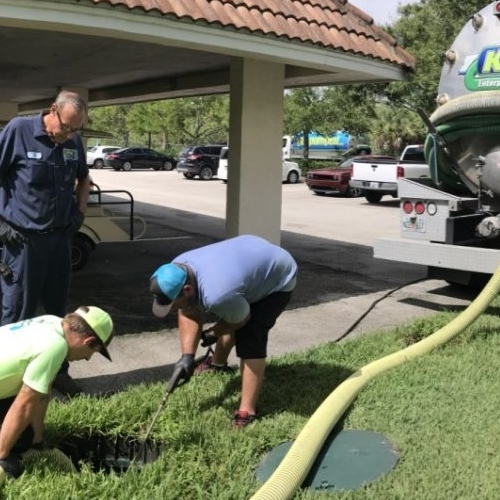 Vacuum truck near me
From cleaning your septic or sewer system to removing a hazardous waste spill, when you need an experienced vacuum truck service in Fort Pierce and Port St. Lucie, Fl, the local team to rely on is KRK Enterprises, Inc.. We provide an extensive range of service solutions with our vacuum trucks including hydro-jetting services as well as cleaning grease traps, bilges, and truck wash pits. All of our services are eco-friendly. You can find out more, get an estimate, or book a service appointment today by calling 800-330-7686.