Commercial Drain Cleaning
Commercial kitchens are meant to serve a large number of customers at once and business bathroom facilities are meant to accommodate employees, workers, and customers alike. For business to proceed as usual and productivity to stay up, you need every aspect of these areas to be in excellent working condition. But, as we all know, just because that's what we need does not mean it is easy to get done. Keeping your drains clear and clean of any blocks or clogs is an important part of basic maintenance and repair work.
Troublesome Blockage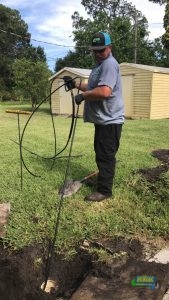 KRK Enterprises, Inc. provides commercial drain cleaning throughout Florida to clear your pipes as soon as you need it! When bathrooms on your commercial property backup or stop working, it can mean a loss of productivity from your workers and a loss of consumer business for you.
Between the sinks, the urinals, and the toilets, there are always plenty of drains available to cause you issues. When you take into account the fact that all of these drains follow the same piping infrastructure, it is not uncommon for a single clog or pipe block to cause a great many issues for many of your drains and bathroom or kitchen fixtures. In fact, if you have both a women's and men's restroom, then a clog in one can certainly clog the other.
Types of Drain Cleaning Services
The drain clearing services we offer are extensive. This is so we can unclog and unblock any type of pipe or drain you have with the most effective method. A few of these services include:
3-compartment sinks
Automated Time Flow meters
Biological Treatment of drain lines
Commodes
Culverts / Catch basins cleaned
Floor drains
Grease/Soap removal from drainage lines
High-Pressure Hydro-jetting services
Priority-One Drain Maintenance programs
Quick response time
Roof drains / downspouts jet-cleaned
Sand Removal
Whole Restaurant drain specials
Sewer and drain blockages in commercial kitchen and restroom drains require the attendance of licensed professionals to get through the fats, oils, greases, and waste which can easily collect inside pipes. Regular commercial drain cleaning in Fort Pierce and Port St. Lucie, Fl by KRK Enterprises, Inc. can eliminate foul odors, end slow drains, and reduces the cost frequent grease trap pumping. Call today to schedule your professional drain cleaning. 1-800-330-7686